The GAO Details the Government Cloud Challenge
In June 2019 the Government Accountability Office (GAO) released a report titled "Agencies Need to Develop Modernization Plans for Critical Legacy Systems." The report identified the most critical federal legacy systems in need of modernization and evaluated agency plans for modernizing them through cloud migration. The report makes clear that outdated legacy systems present multiple risks to government functions – security issues, unmet mission needs, staffing issues and increased costs.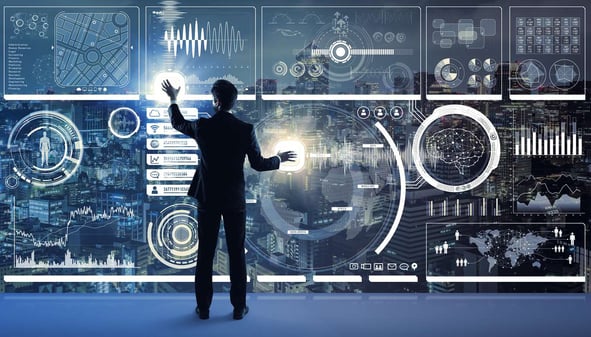 In the report the GAO highlighted the 10 most critical government legacy systems in need of immediate modernization. Many of these systems are vital for the agency mission yet use outdated languages, have unsupported hardware and software, and are operating with known security vulnerabilities.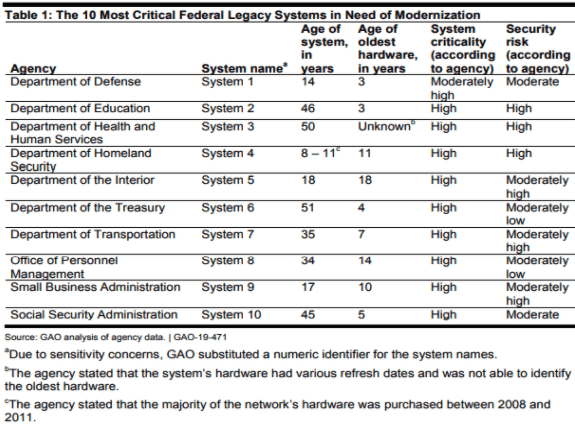 Of the federal agencies responsible for these legacy systems, three have no modernization plan at all in place at the time of the report. Of the remaining seven agencies, only two had modernization plans in place with the three components judged necessary by the GAO for success:
Modernization milestones/metrics
Clear and descriptive scope of work required
Plans for disposition of the legacy system
Agencies without complete cloud modernization plans run the "increased risk of cost overruns, schedule delays and project failure," according to the report.


Download our CloudOps Report Card to see if your cloud infrastructure is "up to snuff" and access tips on maximizing the effectiveness of your application migration project.



Defining Success
The report highlighted a U.S. Air Force case study as an example of a successful cloud migration. Air Force System 1 (as designated for security purposes) supported operational support of aircraft to support wartime readiness. The system had been in operation since 2005, its software was no longer supported and it was written in a legacy programming language.
The cost of maintaining the system has been steadily increasing for years due mainly to these factors:
Costs associated with operating the system's aging infrastructure and code
Difficulty sourcing and cost of experienced COBOL programmers
Poor legacy documentation
The system ran on a mainframe hosted by another agency
In September 2018 the Air Force awarded a contract to modernize and migrate the system to a cloud environment. DOD contractors developed the project plan for the modernization that contained goals and outlined how the contractor planned to move through the modernization process. In addition, it outlined milestones from the starting point through implementation, and provided for the disposition of the legacy system.
Air Force program office officials have stated that the modernized system is saving the agency over $34 million a year, $356 million saved over a 10-year period. Officials noted that given these savings the cloud migration paid for itself in only five months. The Air Force said that the increased functionality gained by this cloud modernization is leading to increased aircraft availability through the enabling adoption of new technologies.
System and Mission Failure
When the report came out in 2019 the Small Business Administration (SBA) was one of the agencies that had an incomplete modernization plan in place. The GAO felt that the SBA plan did not describe the work necessary to modernize their system, which had been in operation for 17 years. In a letter to the GAO the SBA concurred and said the work would be completed later in 2019.
The public GAO report only describes agency systems by number. So we can't know for certain which SBA system was deemed one of the ten most in need of modernization. What we do know is that the SBA's E-Tran system crashed last year under the load of processing thousands of Paycheck Protection Program (PPP) applications from financial institutions.
Of course, no one in 2019 could have foreseen how the coronavirus pandemic would shut down the economy. But thousands of applications from small businesses across the country were stranded because the SBA's IT system failed in its fundamental mission. Commercial cloud providers like Amazon Web Services, Azure and Google Cloud Platform can provide the elasticity and flexibility to accommodate unexpected spikes in demand.
We Can Help
Simple Technology Solutions (STS) specializes in enterprise cloud transformation for government. We are:
An Advanced, Small Business Multi-Cloud Provider. Our advanced partnerships include Amazon Web Services, Google Cloud Platform (GCP), Microsoft Azure, and more. We are the only 8a HUBZone small business with AWS Government competency and implemented one of the first FedRAMP compliant GCP IaaS cloud hosting environments in the federal government. With self-service templates and other "cookbooks," our automated approach is proven to reduce migration, provisioning, and onboarding timelines and seamlessly transition teams and applications to all the major cloud service providers (CSPs). The STS team has more than 100 technical professional certifications across these CSPs.
Experienced. Our expertise includes a deep bench of engineers skilled in Agile, DevOps, CI/CD and Agile Lean processes. STS has successfully executed multiple enterprise legacy application migrations, with a library of proven cloud automation scripts brought into each engagement. We execute complex enterprise application migrations using infrastructure-as-code and fully automated continuous integration CI/CD pipelines.
HubZone Commitment. STS is a HUBZone company dedicated to using technology to create jobs in underserved communities. We are passionate believers - and living proof! - that technology can be a socioeconomic onramp for minority groups historically left behind the digital divide. We leverage the STS Apprenticeship Program, the first Apprenticeship Program certified by DC Government, to develop individuals in HUBZone communities with little to no IT skills into cloud engineers.
When the next GAO report on IT modernization comes out, how will your agency systems be described? Start a conversation by booking a meeting with us today.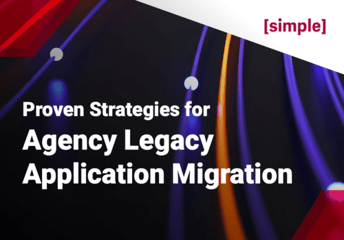 If you're looking for best practices and case studies for quickly and securely executing large scale application migration projects, our free eBook, Proven Strategies for Legacy Application Migration, is the resource for you.