Apprentice Spotlight: Karriem Muhammad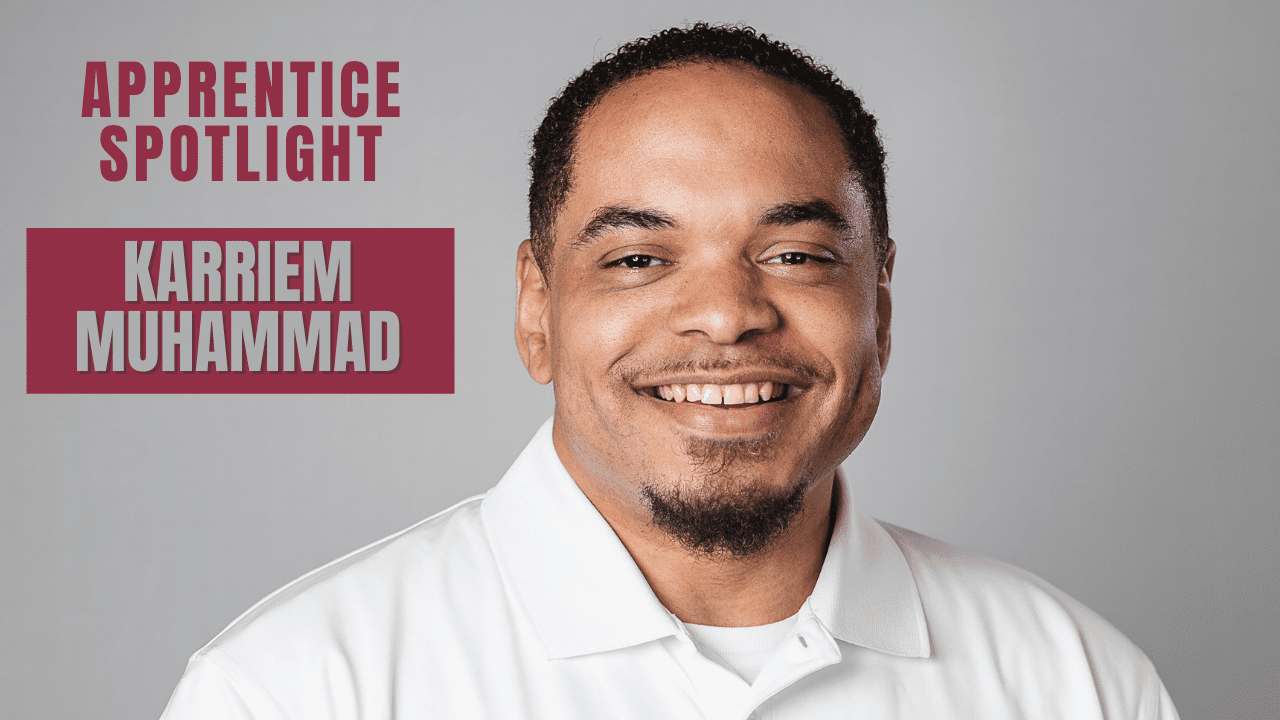 Karriem is an aspiring DevSecOps engineer. When brought in by Simple Technology Solutions, he held a dual role in both IT and Business Development.
Job Title: IT Administrator (Aspiring DevSecOps Engineer)
Currently, Karriem is an IT administrator where he takes care of corporate IT needs. He's responsible for day-to-day IT management and monitoring. As a self-described, lifelong learner, Karriem prides himself on working within all departments where he can to bring value and growth.
Prior to joining STS…
Karriem was an IT administrator at NBC Universal – his first role in IT. He had tried to create and run his own IT business but was unsuccessful. Unemployed but not discouraged, he secured a job as a Help Desk analyst at the American Federation of Government Employees. From there he got an IT desk analyst position at Buckley Law Firm. At this point, he knew he needed a more challenging place in the IT ecosystem.
Karriem found the STS Apprenticeship Program and nine weeks later, Adrian called and offered him a new direction. Karriem says he felt assured and confident after that call as he was now going under the wing of someone who ran a successful business – he knew he would learn the ins and outs of IT at STS.
Needing a Change
After STS offered him the opportunity to change his career focus, Karriem decided that DevSecOps was his future. He realized through research that IT support was on the way down in the IT pecking order, but DevSecOps was booming. His goal was career enhancement and a chance to learn programming and build software; not sit in IT/server-side support. He knew everyone was moving to the cloud and that he saw the writing on the wall. He needed to develop and enhance his skills to compete and be marketable. While in the Apprenticeship Program at STS, he earned several certifications that improved his ability to add value and do his job successfully.
In Karriem's Words…
How Will You Make the Transition from IT Administrator to Your Next Steps?
The next move for me would be to work with STS Principal, Aaron Kilinski and STS Cloud Engineer, Wes Coffay, on projects. This process allows me to get the hands-on training I need to get to the next level in my career – DevSecOps training. The ultimate goal? Being able to build software and applications for companies to help improve processes. Being able to automate the cloud process all lines up with STS's mission.
How Did the STS Apprentice Program Help Launch Your Career?
STS provided me with such a great job opportunity, access to a best in class apprenticeship program and access to training and education. This program has given me the tools I need to be successful. These resources have provided me with an unparalleled amount of experience, education and an incomparable amount of knowledge that I can take with me throughout my life as I dedicate it toward making a better world. It's one of the many reasons I'm proud to be a part of the STS family.
Favorite Part About Being an IT Professional
Being able to help people solve problems. It makes the work rewarding and challenging at the same time. You're always facing new problems and when you come up with a solution – those wins inspire me to work harder. In the IT world, it's never the same problem you're solving. Being a part of the STS team – this collaborative environment to solve problems and enjoying camaraderie with people with same vision and goals – it feels like a family not a job.
Advice for Those Looking to Get into the IT/Software Engineering Field
Click on the link and apply – just do it. STS is a pillar in the community – the first to offer opportunities and pre employment opportunities to people with non-traditional IT backgrounds. I've always had a passion for computers and loved it. If you want to start this career, go in and start watching videos about the subjects you're interested in and keep learning all you can. Practice and ask questions. Look for entry level certifications or apprenticeships and study. Once you start earning those first level certificates and passing those first tests – you'll know you're prepared to move to the next level. It starts with going in and having a goal to succeed. Never stop learning!