Apprentice Spotlight: Rob Bassy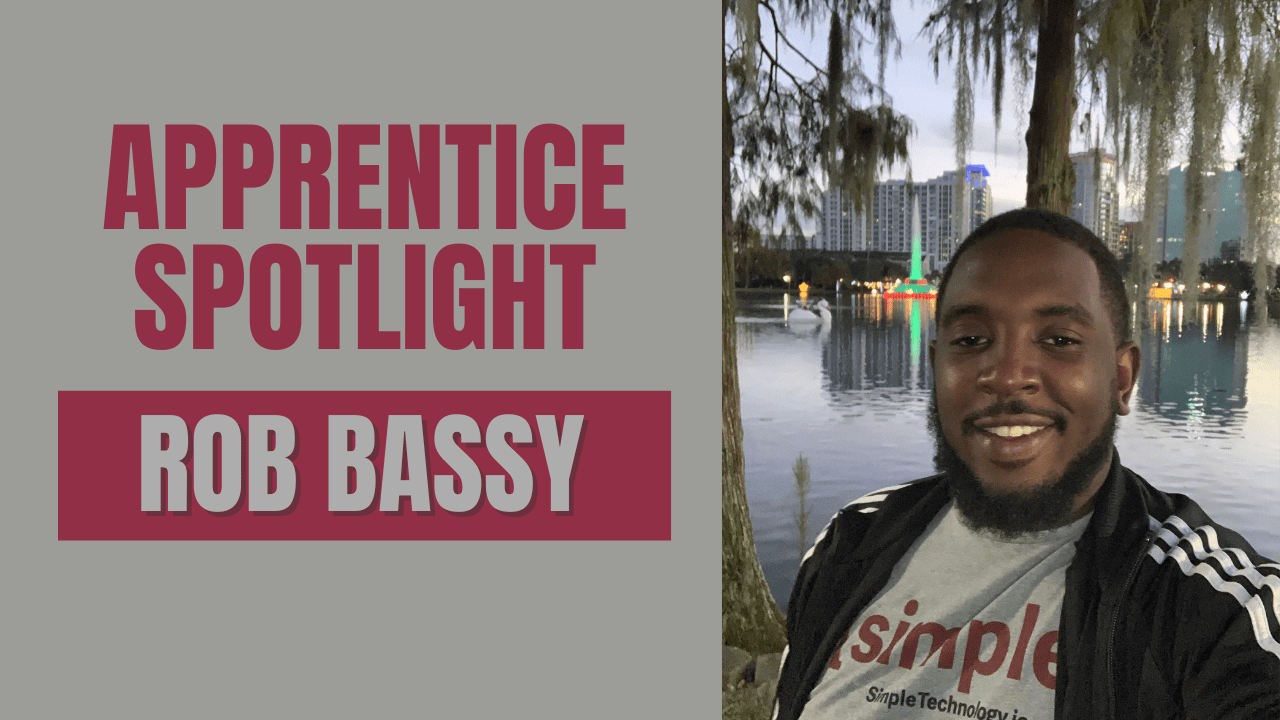 Robertson (Rob) Bassy was previously a graduate teaching and research assistant at Auburn University as well as a volunteer Software Developer for Salvation Army's corporate office working on their incident management. Rob's previous experience ranges from augmented reality and virtual reality projects geared toward technology in medicine (such as virtualized lumbar puncture procedures), to novel applications for speech pathology.
"My experience mainly focused on technology in the medical field and was focused on providing innovative medical solutions at a global level. One of my favorite projects focused on pre and post-natal care. I co-designed and developed a scalable Android application that leverages the social capital of maternal figures in underdeveloped nations to disseminate information about motherhood all while using a customer-centric approach. This project worked to provide innovation while protecting cultural norms and identities. We worked to not westernize the communities we served, but merely tried to enhance services and availability to the infrastructures that already existed."
What guides your work?
I would say my family is what guides my work. I was born into an immigrant family where sometimes language could be a barrier to access of information. Both of my parents speak fluent Haitian Creole, and French, but when they came to America they couldn't speak much English. They have always been able to communicate, but not to the point where they were able to guide and point me in the direction of where to go in life in America. I had to figure out how to guide myself.
This motivated me and led me to my graduate program with a goal of enhancing systems for educators in all facets of education, but especially in speech.
Graduate school allowed me to get the research capabilities to create technology that can teach people. My hope is to teach colloquial English so people can better blend into their local communities as well as better use technology for information. I am always asking myself, 'what can I do now, and how can I make it happen?'
How did the STS Apprenticeship Program help launch your career?
STS gave me the opportunity to show what I can do. Working as a graduate student, I felt I was helping in the greater scheme. Financially, my graduate work was conducive to my overall growth and what I wanted for my family at the end of the day.
STS has allowed me to gain certifications which is a great value-add to my degree because I now have a complete understanding of how the 'nuts and bolts' work in systems.
The STS Apprenticeship Program focused not only on teaching me the material, but fostered a sense of lifelong learning - and they helped to push me with my learning. On top of that, they were able to provide me with a little compensation for living in a HUBZone. That's two wins!
The STS Apprenticeship Program created an on-ramp for me to become a full time Software Engineer with the company. The Apprenticeship Program made me more marketable; I was recruited by a lot of organizations trying to take me away from STS, but I wanted to stay here for my career. They gave me the opportunity to do what I do. On top of that, they have seen my potential.
Also, after taking a few classes in business school at Auburn, I see that STS is on the right side of history.
What is your favorite part about being a Software Engineer?
My favorite part about being a Software Engineer at STS is that my input is valued. It's surprising because even though I'm fairly new, they still listen.
Any advice for anyone else looking to get into the IT/Software Engineering field?
I would recommend to anybody interested in the field to find a project that they want to do for themselves, and slowly work on it. That way, you can fine tune your skillset as you go and still have passion for the project. From there, add on the next immediate certification you need for your field. If you have a GitHub account, make sure your repositories are updated and make sure that you have enough commits to prove that you have put in some work.
Most importantly, don't give up. You're going to fail a lot, but even with every failure there's some success that comes out of it as long as you learn something. The smallest wins sometimes produce the biggest results.