Simple Technology Solutions' Leaders Proudly Acknowledges Prestigious "Best Place to Work" Award from Washington Business Journal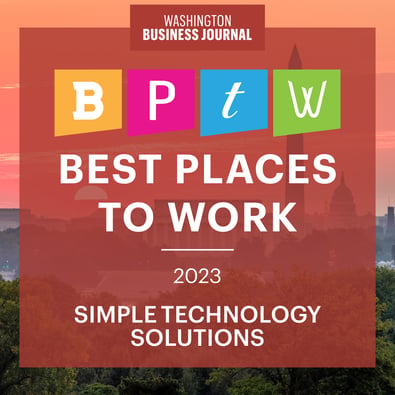 We here at STS are thrilled to announce that Simple Technology Solutions has been recognized with the coveted "Best Place to Work" award by the Washington Business Journal. This award recognizes top employers in the DC region that demonstrate excellence in employee engagement, work culture, and benefits. Companies are evaluated based on a comprehensive assessment, including anonymous employee surveys and an in-depth analysis of workplace policies and practices. We are honored to get this nod not only from the Washington Business Journal, but more importantly, from our own team members.
CEO Adrian Rich gratefully acknowledges this award and attributes the company's success to its hardworking, dedicated employees. "The WBJ award is an awesome external validation, but it also affirms our modus operandi of intentionally creating a space where we gather and develop expert team members from all backgrounds to create a value-generating engine for our government customers. For us, DEIA is not a fad or an initiative—it is who we are. And we aim to prove to government technology buyers that their mission needs will be best served by a firm whose technical savvy is enhanced by the power of diversity & inclusivity."
STS consistently invests in the professional and personal growth of its employees, providing a comprehensive benefits package, flexible work arrangements, and a supportive company culture. Our efforts to maintain a diverse and inclusive environment have been paramount in fostering a healthy and productive workplace for everyone.
"We are incredibly proud of the environment we've created at STS. It's crucial that we maintain a culture that encourages diversity of background, creativity, collaboration, and continuous learning, as these are the driving forces behind our success," added STS Business Development Partner Betsey Hutton.
CTO and Partner Aaron Kilinski added, "Looking forward, STS is committed to building upon its reputation as an exceptional employer by continuing to prioritize employee well-being, fostering a culture of innovation, and maintaining a strong focus on diversity and inclusion."
About Simple Technology Solutions: STS is a leading GovCon company that specializes in Cloud Technologies, Application Migration to Cloud, Data/AI/ML Solutions, DevSecOps & now, cloud-native Contact Center technology transformation. STS is an 8(a) & HUBZone small business with unique advanced partnerships with the top cloud service providers. For more information, visit www.simpletechnology.io.
For more information, please contact Betsey Hutton at bizdev@simpletechnology.io.