Simple Technology Solutions Named Google Cloud Public Sector Partner of the Year for US Federal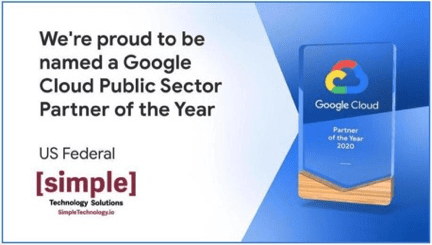 Yes, you read that headline correctly! We're incredibly proud that STS has been named the Google Cloud Public Sector Partner of the Year for US Federal. The award recognizes our combined innovative thinking, outstanding customer service, and best-in-class use of Google Cloud products and services for federal customers.

It's a credit to the team we've built that STS has gained such prominence barely eight years after I founded it. What's particularly gratifying about the Google Public Sector Partner of the Year award is that STS invested early on in the relationship. We had 20 Google Cloud certified engineers back when Google's federal division numbered in the single digits. So the difference in size notwithstanding, our two companies have grown up together in the federal market.

Working with world-class partners like Google Cloud we've acquired specific expertise that permitted us to narrow our focus to cloud and DevOps engineering. We've evolved from infrastructure and while continuing to build on that capability foundation are extending into adjacent cloud-native technologies like Artificial Intelligence (AI) Machine Learning (ML).

This is not the first time our work with Google Cloud has been officially recognized. Earlier this year STS was named a 2021 ACT-IAC Innovation Award winner. Working with Google Cloud and the Navy's Small Business Innovation Research Office (SBIR), STS developed redOx, an AI/ML corrosion detection and analysis solution that will save the Navy billions in annual vessel maintenance costs. STS is currently expanding the solution to include aircraft and tanks by incorporating additional sensors like infrared and multi-spectral. We're also working with Google on exciting, BigQuery data warehouse projects in the private sector, and look forward to bringing those capabilities to the public sector.

This award was won by a company that lives its values. None of this success would be possible without our incredible employees. From day one I was determined that STS would be a different kind of 8(a). At STS we are passionate believers - and living proof - that technology can be a socioeconomic and community transformation vehicle for groups historically left on the wrong side of the digital divide. The quest for excellence should not leave anyone behind.
Finally, thank you to all our government customers. We're honored by the trust you put in STS to implement advanced technology to fulfill the mission. The best is yet to come.

To learn more about what STS can do to support your mission please click here.