Q&A with Darryl E. Peek II, Head of Federal Strategic Partnerships at Google Cloud, Public Sector
STS government clients benefit from the advanced partnerships STS has with all the major cloud service providers (CSPs). We implemented one of the first FedRAMP compliant Google Cloud Platform (GCP) IaaS cloud hosting environments in the federal government.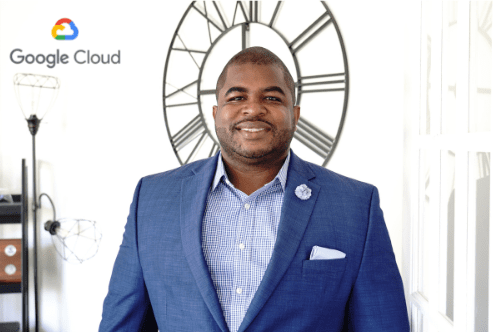 Recently STS was recognized by Google for Expertise in Government workloads and artificial intelligence/machine learning solutions leveraging Google cloud-native services like AutoML and Vision API. To explain more about what these designations mean and what the STS and GCP partnership can do for government clients, we reached out to Darryl Peek, Head of Federal Strategic Partnerships at Google Cloud Public Sector.

The following conversation has been edited for length and clarity.

Q: Thank you for speaking with us. What's the significance of STS achieving these recognitions?
DP: The entire Google Cloud Public Sector team is excited to see STS further their path to differentiation with partner expertise designation in Public Sector and AI/ML. Achieving expertise through the Google Cloud Partner Advantage Program provides companies with the opportunity to highlight their unique skills, showcase early success, gain more visibility, promote skills and assist more clients.

In their long standing partnership with Google Cloud, STS is now able to communicate to current and prospective clients their expertise which are directed at addressing critical agencies mission use cases.

Q: What's your view on the potential of cloud-native AI/ML?
DP: It's truly an exciting story. Just a few years applying AI and ML was prohibitively expensive for organizations. Now access to AI/ML has been democratized by the availability of native AI/ML from providers like Google Cloud Platform.

With cloud-native AI/ML, there is no need for a pre-existing decision-making algorithm. Agencies create their own by bringing data pertaining to a mission challenge and the solution algorithm is then developed and validated. Cloud-native AI/ML puts the resources of GCP at the disposal of agencies, allowing hypotheses to be validated and service solutions designed much faster than in the past.

Q: When looking for a federal partner, what is Google Cloud PS looking for?
DP: Google Cloud Public Sector is looking for the following qualities in our federal partners, and STS strongly reflects all of them:

● Executive Alignment between our organizations
● Joint Business Planning to define pipeline, enablement, capabilities and marketing
● Account Engagement and Use Case Alignment
● Deal Registration and Joint Pursuits
● Credibility, Sales Credentials and Technical Certifications
● Regular Performance Touchpoints through QBRs, MBRS or other meetings

Q: Can you share the recent success STS and Google achieved for the U.S. Navy?
DP: Well, more people have heard about that story since it was the basis for STS winning the recent 2021 ACT-IAC Innovation Award! Congratulations again on that front, we couldn't be happier about it. Working together, GCP and STS built a corrosion detection and analysis solution using Google Cloud's AI/ML platform.
Leveraging Google's native computer-vision capabilities and commercial drones, the team successfully identified "corrosion of interest" in aerial images of vessels, with confidence scores of more than 90% with very few false positives. This was an engineering feat that required complex integration between emerging software and hardware technologies.

This application of AI/ML combined with drone imagery showcases one of the many possibilities for this technology across the DoD and beyond. As this collaboration continues to phase two, Google Cloud and STS will continue to work toward ways to further expand this corrosion detection model, and ultimately improve the process for corrosion across all types of infrastructure.

Q: Do you have some high-level tips for agencies looking to accelerate their cloud migrations?
DP: Yes, I do! I'd recommend agencies Implement a culture of transparency, innovation, experimentation, customer success, and collaboration. Define a clear vision, mission and objectives for your organization, and utilize an agile delivery model which will assist the organization in prioritizing critical user stories.
Agencies should also look to conduct pilots and proof of concepts which are timebox and outcome based to ensure the requirements are being met while providing appropriate approaches to effective market research. And finally, it's key to obtain regular feedback from your stakeholders to ensure the services and solutions are providing the appropriate value for users through surveys and/or net promoter scores.

Q: What's your 12-18 month prediction of what we'll see around cloud in the federal space?
DP: I expect to see the expansion of ubiquitous AI on the cloud for use cases associated with vision, document, chatbots and contact centers. There will continue to be evolving use cases for healthcare AI to include education, identification and prediction. There's also no escaping the predictions for increasing connectivity to include 5G, bandwidth, connectivity and high performance computing.

I hope we'll see greater use of voice and AR/VR use cases to address agency outcomes while lowering the barrier of entry for information and insights. And increased investment to address cybersecurity use cases around automated compliance, zero trust and security analytics.