Apprentice Spotlight: Durell Hart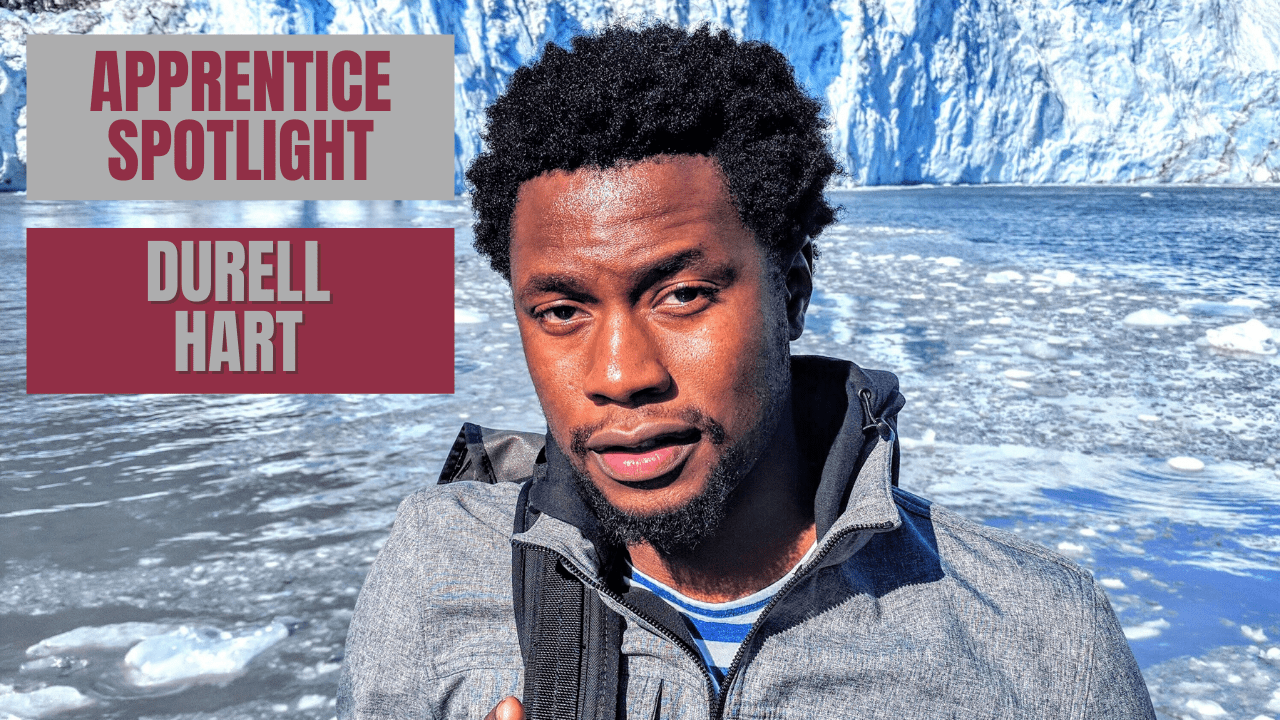 Durell is a hard worker that identified the path he needed to take to obtain a better life and made the most of his knowledge and network in order to achieve his goals.
Job Title: Cloud Engineer
Prior to Joining STS…
Durell was working a lot of dead end jobs until his work began in government contracting, however, he soon realized that although he was surviving, he was not in a position to learn and thrive.
"I was always in Help Desk roles with very little pay compared to what was available in the market for engineering level jobs. Also, at that time I was about to become a father so I had to make a change. I reached out to potential mentors and people I thought could help me, or people who would train me, but was generally only pointed in the general direction of AWS. I didn't really know that much about AWS at the time, so I had to verify that any outcomes from learning AWS would be worth the time invested. Once I did my research I found out that cloud was everywhere. Uber, Netflix, Airbnb, McDonald's, Johnson and Johnson, Harvard Medical School, and other big companies are all clients. Based on that research, I knew I could do some damage in this field if I could get into it early.
In Durell's words…
What are the first steps you made to transition to Cloud Engineer?
I started by earning the AWS Solutions Architect certification. That was in 2018 and I was working on that for a long time. I knew I needed to increase my knowledge about the cloud and put my all into it. I worked on solidifying my knowledge and staying up-to-date with what's going on and what services are out there and how to use them.
After I earned my certification, I understood the basics of Object Oriented Programming by viewing free courses on YouTube, reading Python books on the weekends, and trying Codecademy in my free time. During this time, I was very, very hungry and applied a project-based approach to my development; however, I still didn't have a way to refine the necessary skills to consistently contribute to an engineering team within the cloud. I still had some gaps in my knowledge.
How did the STS Apprentice Program help launch your career?
The apprenticeship program at STS helped me a lot. I had a really big advantage because STS saw my potential, empowered me to solve problems independently and to think like a Developer from concept to solution.
STS' approach is pretty much tailor-made to each individual's experience and comfort level with developing solutions. The program provided me with the project based solution development environment I needed to fully realize the engineering skills I had been building for many years. The STS Apprenticeship was a springboard for me to get going in my career.
The apprenticeship program and all of the guidance was great - I needed it. I can't say enough good things about Aaron Kilinski; he really stuck in there with me. He was in the trenches with me trying to get it done. We were working to engineer solutions and we discussed stuff that went into production, or at least was being considered for production, in my first month. I had no experience creating those things until then.
Although dealing with frameworks can be intimidating, my mentor said "I see that you can read code. I know that you know the cloud, you can do this, so this is what we're doing. He gave me that confidence and power. We then made sure that no matter what, we would keep pushing through. This mindset and support gave me an identity as an STS Engineer.

Favorite part about being a Cloud Engineer

My favorite part about being a Cloud Engineer is the freedom to control my destiny. I have a few career paths in front of me and I'll be rewarded based on the work that I put in and how I evolve.

Advice for anyone else looking to get into the IT/Software Engineering field?

Get help in order to gain insight. Network with people and find mentorship. Walk your path and manifest your goals; the same process you would do for anything else. Keep in mind this is a multi-year goal and you have to stay on the path relentlessly. You have to keep grinding. You have to keep learning.
There were times where I wanted to just get it over with. I am so glad that I didn't give up. I have people that empowered me during those times to keep going. I held my certification for a year without anybody giving me a chance; nobody wanted to give me an opportunity for my first cloud job until STS. Stay the course.