Apprentice Spotlight: Wes Coffay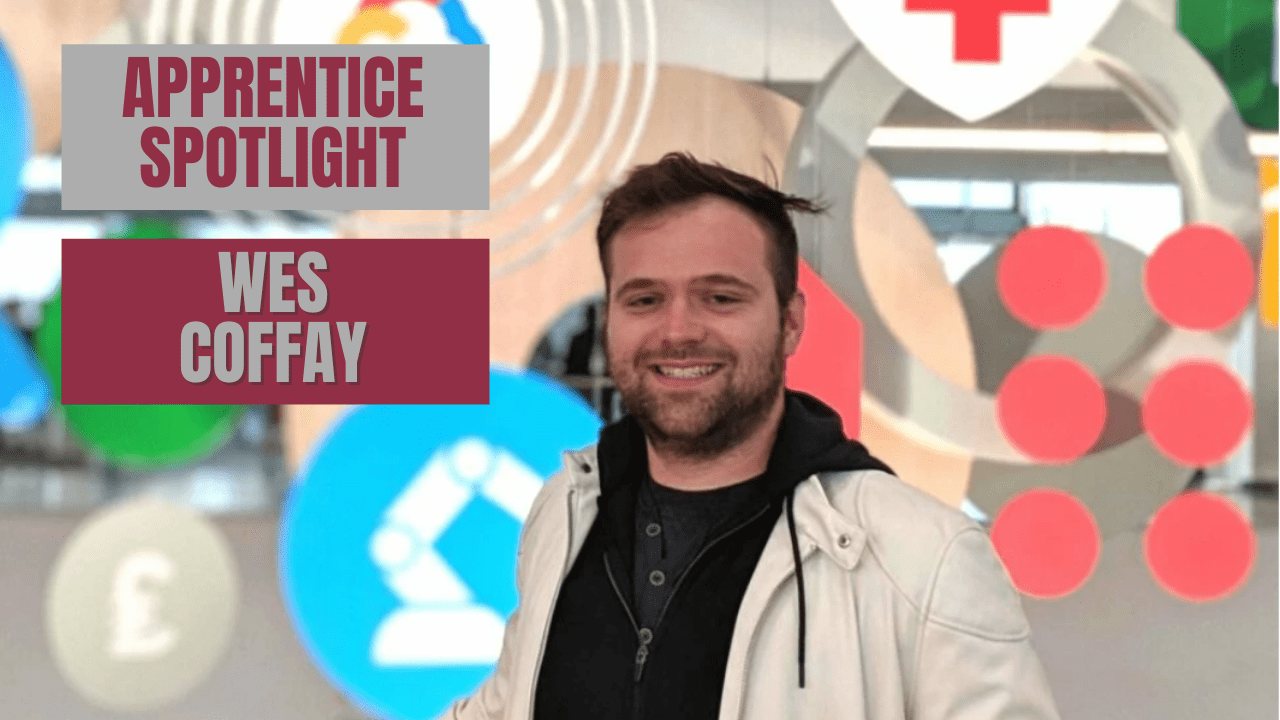 One of STS's top engineers, Wes Coffay shares how his journey to his current role was anything but linear.
Job Title: Cloud Engineer
Wes also serves as the Technical Lead on STS's Google Cloud Platform Learning Cohort, mentoring apprentices as they prepare for the GCP Associate certification.
Prior to joining STS…
Wes held a few roles at a non-profit mental health agency as a Rehabilitation Program Facilitator and Homeless Outreach Case Manager. There, he worked with adults and families experiencing severe mental illness and connected them with support (healthcare, benefits, housing, employment, etc.).
Needing a Change
Driven by the desire to help others, Wes' career was deeply rewarding and impactful. After feeling a pull to progress his career, he began researching Masters programs in counseling. At the same time, Wes' sister was attending a coding bootcamp which piqued his interest in tech and web development.
Wes started dabbling in basic online coding exercises, researching the field and the level of opportunity. Turns out, the demand for cloud engineers far outpaced the number of available candidates. With his interests taking an unexpected turn, Wes was compelled to make a change. There was one roadblock—his skillset didn't quite match his new set of goals. Wes needed a chance to learn, train, and a concrete roadmap to help make his career transition.
In Wes' Words…
What were the first steps you made to transition to Cloud Engineer?
First, I attended a General Assembly Web Development Immersive coding bootcamp to learn the basics in JavaScript, Ruby, Node, AngularJS, React, Rails, and a few other associated technologies.
Upon program completion, I was looking for a Junior Web Developer role, but I needed hands-on experience and more training. I applied for a Software Developer role at STS even though the job required 1-3 years of experience.
Fortunately, I connected with STS Principal Aaron Kilinski, who gave me some guidance and recommended the STS Apprenticeship Program. I enrolled and immediately started connecting with my mentors, gaining new skills and getting my certs!
How did the STS Apprentice Program help launch your career?
The apprenticeship program gave me a concrete roadmap for my career transition. By tailoring the curriculum to the current demand, I was able to focus on building a desirable skill set that I took straight to a job site. The structure of weekly check-ins and homework gave me something I could control in a situation that was otherwise largely out of my control. After completing the curriculum, I passed my AWS Associate Certs (Developer, Solutions Arch, and SysOps Admin). At that point, I was qualified to start working on an STS contract as a Junior Cloud Engineer.
Favorite part about being a Cloud Engineer?
The new challenges are re-energizing! Some days I'm working with virtual machines, and others I'm supporting a team of DBAs dealing with a migration issue. It can be challenging keeping up with all of the disciplines, but it means I rarely do the same thing twice—and if I do, that just means I need to automate that anyway!
Advice for anyone else looking to get into the IT/software engineering field?
Never. Stop. Learning! Technology changes so quickly and you need to keep up to stay relevant. Also, get comfortable with the unknown and don't get frustrated when new technology seems to emerge every hour. I've learned to find a balance between learning new concepts and accepting that I cannot be a SME on everything. Finally, google 'Imposter Syndrome'. You may feel it at some point, but don't let it stand in the way of achieving your goals.